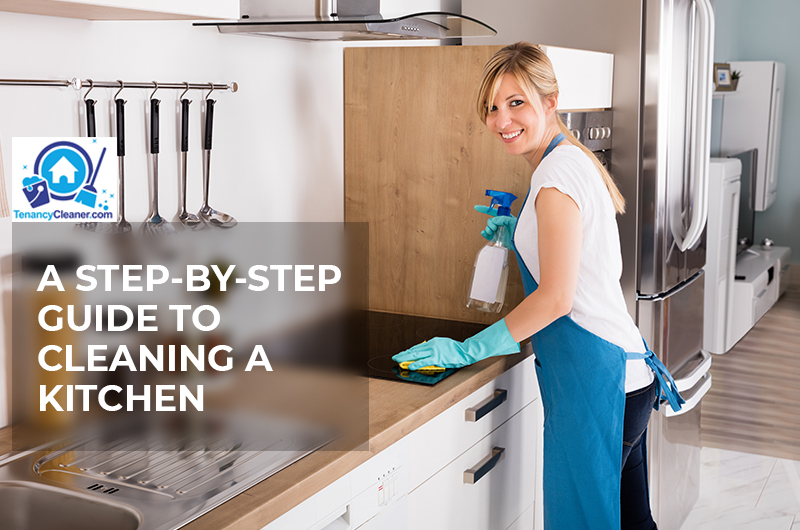 Most people find cleaning in the home to be a stressful chore, especially when the kitchen is involved. The most challenging thing about cleaning a kitchen is knowing where to start and knowing when to stop because the truth is, cleaning a kitchen is continuous — it never really ends. Most times, you even skip some vital areas of the kitchen, and at the end of your cleaning, you are satisfied with the way your kitchen looks.
This step-by-step guide on cleaning will give you an idea of how to go about your cleaning — you may not follow the steps strictly, but at least you'll know what to do and how to go about it. This step-by-step guide to cleaning a kitchen can serve as a template for cleaning our kitchen. It may not apply to every situation, but it will definitely be helpful during your next clean-up.
Outlined below is a step-by-step guide to help you with your kitchen cleaning;
Clear up every surface: It's always better to start by clearing up items that are supposed to be in the kitchen but are not in their right position. Still, on clearing things up, you should gather all the items that do not belong in the kitchen at a place.Preferably, you can put them in a basket to be sent to their right rooms in the house, but this should be done later, or if you have a helper, the person can help you put the items away. You will probably get tired of cleaning your kitchen if you have to return all the non-kitchen items to their right place before you return to clean the kitchen.
Start at the sink: When your non-kitchen items are no longer your way, the next thing should be gathering all the dirty dishes into your dishwasher then soak the things that need soaking like microwave turntable, bowls, large pans, and dish drainer in the sink. This can be done by running a sink of hot soapy water before you drop the items inside.
Spray stovetops and countertops: Spray an all-purpose cleaner on your countertops, stovetops and other surfaces and allow the cleaner to serve its purpose while you get on with your cleaning.
Clean up the refrigerator: To do this, you have to dispose of all empty food containers and any expired thing. Use a rag sprayed with an all-purpose cleaner to clean the shelves from top to bottom.
Get the tops cleaned: Use a long-handled duster to clean the surfaces. It is okay to knock down dirt from top surfaces to the floor because you will sweep them up later. Start the cleaning from any comfortable spot and make sure you work your way through the perimeter of your kitchen back to the same spot where you started. Ensure that you clean the light fixtures, top of cabinets, and all corners. Don't forget the top of the refrigerator.
Clean microwave and upper cabinets: Set a wet sponge in the microwave for about two minutes then wet a rag with soap and warm water. Use the rag to wipe the handles of upper cabinets, doors, and any other thing on the walls. By this time, the sponge in the microwave would have cooled enough for you to handle. Use it to clean in and outside the microwave.
Wipe stovetop and countertops: The cleaner you sprayed on the countertops and stovetop would have worked enough now — wipe down the surfaces. You can add baking soda to get rid of stubborn stains.Use stainless steel cleaners for stainless surfaces and granite cleaners for granite surfaces.
Clean vertical surfaces of appliances: Dip a rag in warm soapy water. Use it to wipe down the front of your appliances like oven, dishwasher, and refrigerator. Carefully clean the outside edges and handles too. You can use vinegar diluted in water or stainless steel cleaner for stainless steel appliances.
Clean lower cabinet drawer and doors: Advisably, you can use a rag soaked in warm soapy water to wipe down your lower cabinet doors and drawers.
Wash dishes and clean sink: Do the dishes and place the items that were soaked in the sink into the dishwasher or wash them by hand. After proper washing of the dishes, the sink should be drained and rinsed with hot water then clean the basin with baking soda or any other mild abrasive. Rinse the basin with hot water and wipe down the faucet and handles with a microfiber cloth.
Take out the trash: An essential thing to not miss out is emptying the trash and wipe down the inside of the can before replacing the bag.
Sweep and mop the floor: Lastly, sweep the kitchen. Make sure you sweep out the baseboards, under the cabinets, and corners. Pull out appliances if necessary, then mop or use a steam cleaner. Start the cleaning at the farthest corner from the entrance. If you are to mop, make sure you have a bucket with you. You do not want to contaminate your sink immediately. Throw the dirty water outside or in your toilet.
If you have done all this, then your kitchen should be clean and sparkling.
These steps may look difficult, but here are a few tips to make the cleaning easier.
You can make cleaning the kitchen a family business. Share the steps between your family members and you can have a clean kitchen within a short time.
Make every family member clean and rinse their plates after every meal. This may seem irrelevant, but it goes a long way to save time for dishwashing later on.
A sink of hot soapy water can come in handy in the kitchen. This will help you to quickly wash off cutting boards, mixing bowls, knives, and other cooking utensils before they dry up — also, avoid piling up dirty dishes and take the stress out of cooking.
You can contact us today on [email protected] or 02036334897 to help you clean your house or to get more tips to make your home cleaning more comfortable. We provide professional cleaning services in London to suit your needs and give your kitchen a new look. Contact us right now and you will be glad you did.